Jubilee of St Charles
On Saturday, 11 December 2021, we celebrated the two hundredth anniversary of the birth of Saint Charles of Mount Argus. To mark this anniversary, Pope Francis granted a Jubilee Year to the birthplace of Saint Charles in the Netherlands and to our church at Mount Argus. During the Jubilee Year, which lasts from 11 December 2021 to 5 January 2023, a Plenary Indulgence can be gained by those who visit Mount Argus Church. On Saturday, Archbishop Farrell celebrated Mass at Mount Argus to inaugurate the Jubilee Year.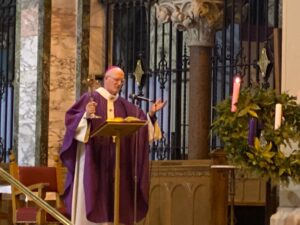 The Plenary Indulgence for the St Charles Jubilee Year can be received every day at Mount Argus during the Jubilee Year by fulfilling both of these conditions: (1) making a Pilgrim Visit to Mount Argus Church to take part in a Jubilee celebration or to pray at the tomb of St Charles, saying there the Our Father, the Creed and a prayer to Our Blessed Lady and to St Charles; (2) receiving Sacramental Confession and Eucharistic Communion, and praying for the Pope's intentions. The elderly, the sick and all those who, for grave reason, cannot leave their homes, will be able to obtain the plenary indulgence by repenting of all sins, and by intending to fulfil the conditions of confession, communion and prayer for the Pope's intentions as soon as possible, if in the presence of an image of Saint Charles, they have spiritually participated in the Jubilee, offering to the merciful Lord their prayers and sufferings and the hardships of their lives.