Family Groups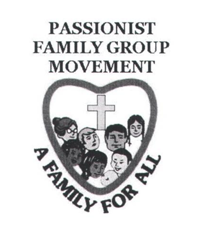 THE PASSIONIST FAMILY GROUP MOVEMENT
In 1972, Father Peter McGrath CP was appointed to the tiny parish of St Anthony in the Fields, Terrey Hills, an outer suburb of Sydney, Australia. Then only 30 people gathered for the Sunday Eucharist.
The congregation grew and by 1973 over 1000 people were attending. Faced with this expansion, Father Peter formed Family Groups to preserve the original community spirit where people knew each other by name and shared each other's joys and sorrows.
The Family Group Movement, though started in the Catholic Church, has now bridged the gap and is ecumenical, being in Anglican, Uniting and Baptist churches.
Family Groups are now in over 400 parishes in Australia, New Zealand, U.S.A., U.K. and Ireland. In all countries it is seen as a relevant way for all of us to build Christian community and prepare for the future.
FAMILY GROUPS IN MOUNT ARGUS
Family groups began in Mount Argus in 1998 after a visit by Father Peter. The first co-ordinators were Yvonne and Hugh Gray who embodied the spirit of the movement and led us through the first 10 years until 2008.
Embodying the same spirit our co-ordinators for the next 5 years, from 2008-2013, were Kate and Gerry Brennan. Last year we adapted the structure and our Family Groups are now guided by a co-ordinating team.
At present this team is Yvonne and Hugh Gray; Kate and Gerry Brennan, and Joan and Paud Lavelle.
At a Family Group reflection day last year members were asked what their Family Group experience had meant to them. Some of the words used were: reaching out; welcome; warmth; hospitality; coming to know; building friendship; offering support; kindness; sensitivity; help; laughing with; crying with; rejoicing with; mourning with.
We can recognise here simple ways in which members experience loving and being loved – as Christ has loved us –which is the inspirational Gospel principle on which Family Groups try to model themselves.
At present there are 9 Family Groups meeting roughly once a month for simple social gatherings or outings. Each group also takes it in turn to host the monthly coffee morning which extends a welcome to the whole parish family and encourages people to come to know each other over a simple cuppa and a chat. On the last Sunday of June Family Groups host a barbecue to which all the parish are invited.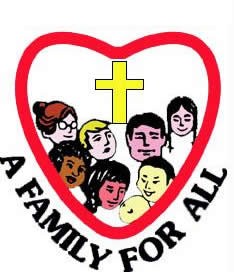 FAMILY GROUP LOGO
While the logo of the Passionists is that of the Cross above a heart, for the Family Group Movement the Cross is placed in the centre of a heart, enfolding not only three generations of a family, but also encircling multi-cultural faces, an all inclusive family.
This Family Group logo can help us understand and hold together that all inclusive, unconditional welcome of all into Family Groups.
ARE YOU INTERESTED?
For more information hand in your name and contact details at the monastery reception for "Family Groups"