St. Paul of the Cross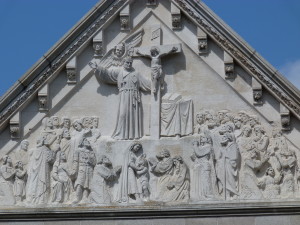 Paul Francis Danei was born in Ovada in Italy on 3rd January 1694 His family later moved to Castellazzo, not far from Ovada. His mother taught him from an early age that the strength to overcome any difficulties in life was to be found in the Passion of Jesus, so Paul was filled with this love for Jesus Crucified since early childhood and developed a desire to dedicate his entire life to Him. This was intensified one day listening to a sermon, where he felt himself inspired to the love of Christ Crucified; and he referred to that moment as the time of his "conversion".
Between 1715 and 1716, thinking that this was a way of following the Crucified Christ, he went to Venice and enlisted in the army to fight against the Turks who were threatening Europe, until one day, praying before the Blessed Sacrament, he came to understand that this wasn't his vocation at all. He resigned from the army but stayed on for a while in Venice, at the service of a family he knew and we know very little about that time but we can surmise that he was doing a lot of thinking and praying about the future direction of his life. He returned home to find that his priest uncle had left him an inheritance so that he could marry, but Paul renounced the inheritance and the expectation of his uncle.
Shortly after, in a vision he had of Our Lady, Paul had an insight into the habit, the sign and the kind of life he was being called to lead, a life totally committed to Jesus Crucified. Wisely enough he consulted with others, including the Bishop of Alessandria, who then clothed Paul with the Passionist habit on the 22nd November 1720.
Paul spent the next forty days on retreat, living in the sacristy of the Capuchin church of St. Charles in Castellazzo, and his physical and spiritual experiences during that "forty days" are known to us through the "Spiritual Diary" that he kept. During that retreat he also wrote the Rule for possible future companions whom he refers to as "The Poor of Jesus".
His brother John Baptist asked to join him but Paul refused, at least for the moment, although later John Baptist would become his constant companion and really the co-founder of the Passionists. Paul said that John Baptist was really the holy one. At the end of his forty days, the bishop gave him permission to live in the hermitage of St. Stephen in Castellazzo and to engage in an apostolate of catechesis and preaching as a layman, very unusual at that time.
During the following summer of 1721 Paul went to Rome with the intention of having an audience with the Pope to talk to him about his inspiration to found a new Congregation, but the guards at the Quirinal Palace, where the Pope resided at that time, thought he was a beggar and wouldn't let him in.
Accepting this as a humiliation in imitation of Jesus Crucified, he went to the basilica of St. Mary Major, which he would have been able to see down the hill from the Quirinal Palace, and in a side chapel there, before the image of Our Lady "Salus Populi Romani", he made a vow to consecrate himself to promoting the Memory of the Passion of Jesus Christ. And it was there that he thought of calling his new congregation "The Passionists" and not "The Poor of Jesus" as had been his first thought.
On his journey home he stopped at the hermitage of the Annunciation on Monte Argentario which had attracted him from the boat on his journey to Rome. When he arrived back at Castellazzo he linked up with his brother and immediately they went back to Monte Argentario to live initially as hermits. They moved around a bit after that at the invitation of various bishops, but all their attempts to found a community ended up in failure.
In order to preach the Passion it seemed they would have to be ordained priests and so they went to Rome to study theology, they also ministered to people infected with skin diseases in the hospital of San Gallicano, touching the wounded body of Christ.
One day they took the opportunity to speak with the Pope when he visited the church of the Navicella on the Celian hill and he orally and informally granted them permission to gather companions and make a foundation on Monte Argentario, and so in 1727, as ordained priests, Paul and John Baptist left Rome to live on Monte Argentario once again.
They were soon joined by other companions, among them their other brother Anthony and some already ordained priests. Some bishops asked them to preach parish missions in various places and this was the start of the traditional preaching ministry of the Passionists. The first retreat, dedicated to the Presentation of Our Lady, was opened in 1737. The approval of the first Rule was given by Pope Benedict XIV in 1741. Paul was Superior General from then until his death in 1775 but he never stopped preaching missions or writing letters of spiritual direction and that was what he became best known for. Paul passed the last years of his life at the retreat of Ss. John and Paul in Rome, given to him by Pope Clement XIV and that's where his shrine is today in what is now the Passionist headquarters worldwide.