Opening the Holy Door at Mount Argus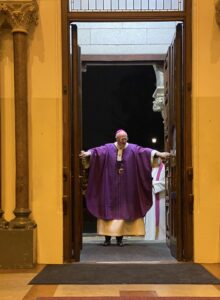 To mark the bicentenary of the birth of St Charles of Mount Argus, Pope Francis has granted a special Jubilee Holy Year to Mount Argus and to the birthplace of Saint Charles at Munstergeleen in the Netherlands. The Jubilee will last from 11 December 2021 to 5 January 2023.
On Saturday, 11 December Archbishop Dermot Farrell inaugurated the Jubilee Year of St Charles of Mount Argus by blessing and opening the Holy Door. Here is the Prayer of Blessing:
Blessed are you, O Lord our God,
King of the Universe!
You bless our coming in and our going out,
from birth to death, you hold us in your care.
Bless this door, O Lord,
which we consecrate to the Saint Charles Jubilee Year.
Each time we enter this church,
draw us more deeply into your mercy
and the wonders of your love for us.
You are the door to the kingdom of God,
the gateway to life eternal,
O God of peace, you are the way that leads to life;
pardon our sins and open for us the door to salvation.
Through Christ our Lord. Amen.