Heroic Witness of Chiara Petrillo

From the desk of Fr. Ignatius Waters, cp
Sunday, 17th September 2017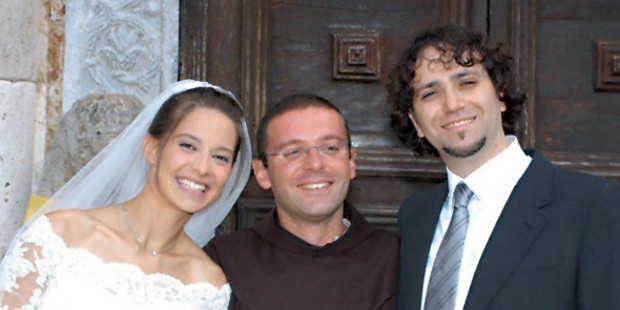 Chiara and Enrico with Franciscan priest on their wedding day
(I wrote the following account in September 2012 so I am very happy to bring it up-to-date by adding that Chiara's cause for Canonisation was introduced in June of this year, just five years after her death).
Chiara Petrillo was a young mother, talented violinist and devout Catholic who died in Rome in June of this year. Her story is one that will shock some and inspire others. Only a brief outline is possible on one page. Chiara refused lifesaving cancer treatment that would have damaged or destroyed her baby in the womb. Baby Francesco was born perfectly well but she died. The background is complex but Catholic moral teaching would say she could have had the treatment without blame even if she knew there was a good chance her baby would be killed as a result. The intention was to heal her, not to kill the baby. But this rational logical approach did not appeal to Chiara at all. She had lost two babies already and she preferred to die herself than cause the death of her child. This can only be called heroic love. It is love beyond the ordinary. Most may not be up to it. But some clearly are.
Many, even Christians, will say she was wrong. She could have lived. She could have had more babies. She could have done much good. But she is inspiring to those who have absolute trust in God, who know with complete certainty what they must do. To one with faith like this, there are things worse than death.
You can watch Chiara and her husband, Enrico, talking about their decision on You Tube. What comes across is quiet joy. Of course, they would rather none of this had happened to them but this is the way they must follow. And in Chiara's face and smile, we can see spirit at work. We can see the 'spirit' that brings life and joy despite the awful pain of our human situation. This can seem like complete nonsense to those who have never experienced it.
Our times need the heroic witness of people like Chiara Petrillo. We will soon have more debates about abortion and legislating for abortion. And seemingly reasonable and compassionate arguments will be brought forward. We need to be shocked into reality. The reality that young girls use abortion as "emergency contraception" and just to "check that everything is working properly." We are more than our bodies. We need different kinds of checks that take account of minds, hearts and spirit as well! Chiara, who would rather die than hurt her baby, is a saint for our times.
What I wrote in 2012 was true and is true!