Fr. Julian Black CP – 1936-2017

From the desk of Fr. Ignatius Waters, cp
Sunday, 15th October 2017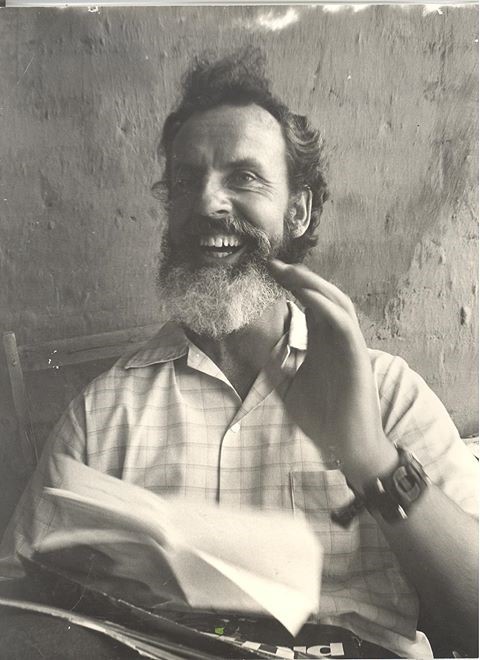 Fr. Julian died last Sunday in Botswana after many years of patient suffering. He was born and reared in Ballycastle, Co. Antrim and his family there have been praying that at last he would be freed from suffering and pain. Yet when he did die, they and I were in a sort of disbelieving shock that such a great-hearted man, priest and brother was no longer with us. He's been described as a poet, artist, mystic, teacher, a visionary and friend by those who have known him. He was ordained on 22nd December 1962 and was sent to Botswana, then known as Bechuanaland, in September 1963 at the age of 27. This photo of the younger Julian says it all. In it, we can glimpse the energy, the enthusiasm and the great spirit that carried him throughout his whole life. He was assigned to Thamaga mission in 1983 where he started many different projects, including pottery making, dress making, leather craft and a small shop where residents could sell their wares. The most successful project was the pottery, which still employs about 20 people. At one stage, Julian asked permission from Bishop Murphy to spend one year praying and meditating in the desert. The Bishop gave permission. So, he lived in a battered old caravan in a place called Tshane beside a salt pan. He did have a truck and so was able to drive to Hukuntsi to buy supplies and especially water. This no doubt led to his ministering to his beloved Basarwa people in the Kalahari Desert for about fourteen years. I'm sure, too, his time there inspired many of the poems in his book called Safari of the Spirit.
Julian's great spirit was especially needed when in midlife he was struck down with Muscular Dystrophy. He wrote much later, "Nearly twenty years ago, I received a special grace. A mutation of the muscles that made me change my pace". Imagine calling Muscular Dystrophy a very special grace. But this was genuine with him. Everything was genuine with Julian. He accepted "the change of pace" with great patience and resignation. I'll never forget the agony it was for him to get from sitting to standing when saying Mass. I used to fear he would fall and hit his head on the great stone altar in Forest Hill in Gaborone. Forest Hill, and the beautiful chapel there, were largely designed by him and based on an African village.
On one page I can give you only a brief glimpse of this good holy man. When I visited him in 2013, it was extraordinary to see the number of people who came to visit him every day in his small rondavel. No matter what was his state of health, he listened to them and prayed with them. For many years now, he has been cared for by Bro. Brendan Gallagher, a brother of Fr. Dermot. When Brendan comes home later this month, it will mark the end of our direct involvement with the mission in Botswana which began in 1952.