Six Family Principles

From the desk of Fr. Ignatius Waters, cp
Sunday, 11th March 2018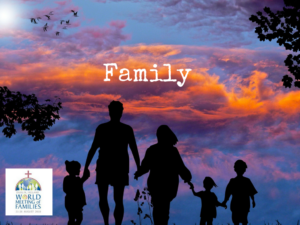 In preparation for the World Meeting of Families in August next, we are invited to reflect on the theme "The Gospel and Family: Joy for the world". Cardinal Cupich of Chicago has recently drawn six principles from 'Amoris Laetitia', the Pope's letter on the family, and these should be very helpful in this reflection. First of all, he says that ''Amoris Laetitia' marks a "revolutionary" departure for the church in the way it interacts with and ministers to the family. And that is because family life is "dramatically different from the past" and so many people are "disoriented and uncertain about their lives." These are the six principles:
The family is a privileged place, chosen by God, to reveal how he relates to humanity. So, the Church must look at the "realities" of family life. "It can no longer simply be said that all those in an 'irregular' situation are in a state of mortal sin and deprived of sanctifying grace." A.L.301
Authoritarian and paternalistic ways of dealing with people must be replaced by "accompaniment", which is itself "an act of forming church teaching."
Decisions of conscience made by married couples and families "represent God's personal guidance for the particularities of their lives; these decisions "could affirm the necessity of living at some distance from the Church's understanding of the ideal."
The Church must incorporate in its ministry the insights of the lay faithful, who are the ones who navigate the tensions between the" abstract ideal" of marriage and the everyday reality.
There should be a culture of care for divorced and remarried couples.
"The Church's pastoral practice of accompanying others in mercy should inform and shape doctrinal development." So, doctrine itself – in an idea that is revolutionary to many – can develop as a result of the Church's accompaniment of families.
Jesus was revolutionary in what he said about marriage in his time. This is just as revolutionary!