We Worship A Suffering God

From the desk of Fr. Ignatius Waters, cp
Sunday, 24th September 2017
In 1964, a tall, handsome, ex-naval officer, Jean Vanier, was invited to the village of Trosley, 40 miles north of Paris. He was invited there to visit an asylum for men with mental handicaps. "It was a horrific place" he said, "full of screaming and violence and yet it filled me with a sense of wonderment. I sensed in these men a great cry – 'Do you love me?' 'Will you be back?" He visited other asylums, equally dismal. And then, like the Good Samaritan, he just did something! He bought a tumbledown cottage in Trosley and invited two men with handicaps to leave the asylum and live with him. He called their home L'Arche, "the ark".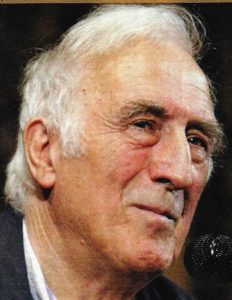 He had no big plan. He just wanted to ease the suffering of two men. But, as he shared his life with them, he gradually discovered that he was being changed by them. "God had chosen the weak and the foolish to confound those living in their heads" he said, reworking the words of St. Paul. They helped him live from the heart. "They were", he said, "teachers of tenderness". Today, there are143 L'Arche communities all over the world. In each one, "normal" people live as assistants to people with handicaps. A devout Catholic himself, Vanier and L'Arche welcomes people of all faiths and none. What is needed is the ability to love people as they are.
Vanier has been listening to people's difficulties for 53 years now. You would think he would be overwhelmed by so much pain but he says "often when I meet people, it's a healing experience for me. I'm not a healer; all I can be is a good listener. And that seems to be the healing part for people – that someone appreciates them." "People" he says, "Are caught up in guilt – there's a whole element of anger against self and broken self-image. So, in listening to people you're going through a barrier of self- disgust. My life in L'Arche has taught me that there is goodness and beauty in everyone." So loving people is helping them see that.
Jean Vanier invites us to gently reflect on three questions: Where are the poor in my life? Who are the poor to me? And how am I a consoler for the weak and the suffering? Each one of us, he says, can make a difference – "even if only how we look at people. When you pass someone begging on the street, it's not a question of 'Do you give him Euros?' so much as 'Do you look at him as a human being?' When you begin to let people who are 'no good' into your life, you are transformed."
I have admired Jean Vanier since I was a young priest and read his books. We often ask what the whole thing is all about. Jean Vanier has no doubt:
"When we die, it's not a question of what we've done but of how we've loved"