We Worship A Suffering God

From the desk of Fr. Ignatius Waters, cp
Sunday, 18th June 2017
Many people question how there can be a good or just God in the presence of so much evil and suffering in the world—about which God seems to do nothing. Why doesn't God intervene? Why doesn't God do something about it?
Richard Rohr suggests one way of answering these questions. Jesus is the living "image of the invisible God" (Colossians 1:15). In him we see that God, in some very real way, is suffering with us. God is not watching it, but in it! How else can we understand the revelation of the cross and that our central Christian image is a naked, bleeding, suffering man? Christians worship a suffering God, maybe without fully realizing it. And St. Paul says we all share in this, that we "make up in our own bodies all that still has to be undergone for the sake of the Whole Body (Colossians.1:24).
We need to see that Jesus is not observing human suffering from a distance. He is in human suffering with us and for us. In Jesus we see that God uses tragedy, suffering, pain, betrayal, even death itself, not to wound us but in fact to bring us to God. On the cross, God took the worst thing, the killing of God, and made it into the best thing—the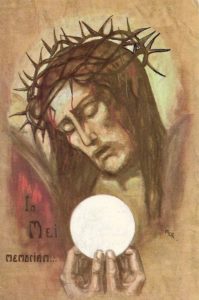 redemption of the world! If you gaze upon the mystery of the cross long enough, you realize that God uses the bad for good. At the cross you learn humility, patience, and compassion. Sooner or later, life is going to lead us (as it did Jesus) into a place where we can't fix, control, explain, or understand. Usually this has to be very concrete and personal and not mere theory. That's where transformation most easily and deeply happens. That's when we're uniquely in the hands of God because we cannot "handle" it ourselves.
It's so easy to talk about the theory of all this but 34 year old Colette Nolan, originally from Newbridge, who has a rare form of cancer and nearly died last Christmas, has learned to live it before she talked about it. She has learned through desperate pain, darkness and near despair and this is how she explains it: "Cancer can heal your life if you let it. It will bring you to the depths of your being and test you to see if you really want to be here on this earth. If you decide to stay (and there's always a choice) then that comes with a responsibility. The responsibility is to take your health into your hands and to share with the world how you did it. You will feel the extreme highs and lows of every single emotion possible. You will have to face grief for all that cancer changes in you, but you can also feel such joy at being alive. Life becomes so precious and every single moment feels worthy of exquisite poetry. You will suddenly notice the birds circling in the sky at sunset or the little robin that appears each morning. You will never take anything for granted again."
Suffering is the only thing strong enough to destabilize the imperial self in all of us. It has to be led to the edge of its own resources, so it learns to call upon its Deepest Source. And nothing else can compare with this discovery. As Jesus said: "Whoever wishes to save his life will lose it, but whoever loses his life for my sake will save it" (Luke 9:24).